Album: "Disconnecting" - Artist: "Sinking Ships".
Let's kick off this music review idea I have with a great album and band.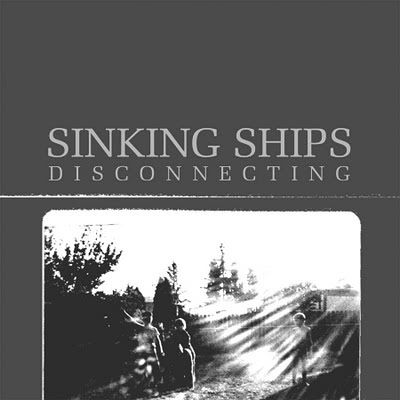 Genre: Hardcore
Release Date: 2006
Disconnecting is a very well done album that personifies Sinking Ships as a staple in the Hardcore scene. It demonstrates that you can be both great musically and lyrically without having to sacrifice anything… besides themselves. Unfortunately, Sinking Ships broke up, and are no longer creating albums.
This album contains numerous tracks that are for the most part similar, but all have their moments of greatness. All tracks have great and memorable singing parts as well as great moments of lyrical genius. All songs follow a very melodic path, making them very unique for the time. While most bands were creating songs purely for the live show, Sinking Ships created that was great to listen as well as watch live.
After the break, more of the review and an in-depth look into each track.
As stated before, one of the great things about Sinking Ships is their ability to play great musically as well as have great lyrics, we'll look at some of the tracks that exempifly this.
The album starts off with a very low-tech (low bit-rate) sounding guitar and drums. A possible nod/reference to all the other hardcore bands that do not have great recording equipment to record with. After a few seconds they stop playing and sound as if they are tuning their guitars, then start up the real song. At this point all your thoughts on melodic hardcore are thrown out the window when you realize that this band personifies the genre. The first song "Give Up" ends with a great melodic discourse ensuring you that this is melodic hardcore and it does exist. That is not to say, however, that Sinking Ships was the only hardcore band of its time to be melodic, but they did blow everyone else out of the water.
A song that will catch your attention next would "Ghost Story" with its great semi-slow opening that leads into what has to be the most unique song on the album so far, being a song not unlike you would hear on a rock album. This song is also the "title track" of the album although it doesn't make itself clear in the album, the lyrics go:
Please don't let me forget, living in this disconnect. And it scares to me death that one day I won't be haunted by your ghost. Stay with me. That one day I'll lay awake and struggle to remember a face. Stay with me.
The next track however, is in my opinion the worst song on the CD musically. "Deadlocked" is very fast, short (0:38), track that kind of hinders them. The album was very melodic up and to this point, and this track kind of ruins it. However, the next track "Shadows" puts them right back on track. This track has one of the best lines in the whole album, but the best goes to a later track. However, what "Shadows" does have is great long outro that you don't get in most songs in the middle of album. This song really makes you think that the CD is over, as in most hardcore albums, tracks with long outros spell the end of the album. Its a disintegrating sound that slowly fades to nothing.
I will not be talking about every track on this album, listen it for yourself and bask in its glory. For now though, I'll touch on my favorite track of the album, and that is "Comfort". "Comfort" is a very depressing track both musically and lyrically. Without sugar coating it, it is about committing suicide over someone who is never there for you. This is a very emotional song. The combination of the following lyrics and the music is very sad and needs a listen to understand why.
I can't expect you to cut loose every noose I wrap around myself. I feel the floor dropping out, just let me swing myself to sleep. Leave me in the darkness, leave me to my peace.
Overall this great album that I suggest anyone who enjoys melodic hardcore in general.
Score: 9/10